Pictured: Betty and Charles "Kicker" McKenney
George Brumder is former President of the Arlington Garden in Pasadena Board of Directors and current Board member. He has been a supporter of Arlington Garden since its beginning. In this interview, he discusses the early stages of Arlington Garden and the role of our founders Betty and Charles "Kicker" McKenney in its creation.
AG: How did you first become involved with the garden? What led you to become a supporter and board member?
George Brumder (GB): I grew up in Milwaukee, a place where there are four entirely distinct seasons, and my family spent summers and many weekends during the year in the country on a lake in the woods. Nature was always close, important and appreciated by me and my family.
My wife Marilyn and I have lived in Pasadena for over 50 years, and we've always been involved with our own gardens at home. From early 1999 through 2010 I was the founding chair of the Southern California branch of the Mediterranean Garden Society, a non-profit organization headquartered in Athens that's a resource for gardeners in the world's mediterranean climate regions. I was on the MGS board from 2004 through 2012. In 1999 I joined the LA Arboretum's board of trustees and was board president for 4-plus years starting in 2000. I've been on the board of the Men's Garden Club of Los Angeles since 1993, and I was program chair for 6-plus years and president in 2005 and 2006. Marilyn and I have visited many gardens, gardeners, garden designers, garden writers and plantspeople around the world.
I know meaningful connections with nature contribute to physical, mental and emotional health.  I also know that gardens are places of learning, enjoyment and inspiration. We're in a mediterranean climate, and it's important for people to know that and understand what that means.  Increasingly as our population density grows, too few Southern Californians have a real connection with nature. Arlington Garden responds to all these considerations, so I'm happy to help.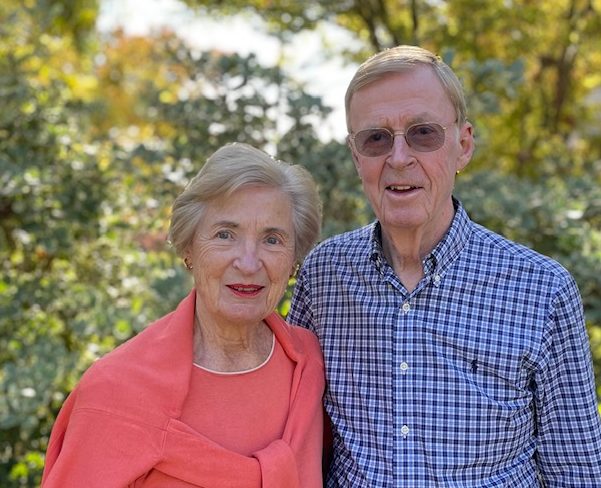 Pictured: George and Marilyn Brumder at the garden.
AG: Betty and Charles McKenney, the founders of Arlington Garden, are now legendary gardeners. What was your relationship with them and how did you all first meet?
GB: Marilyn first met Betty in the early to mid-70s, when our children were in the infant-toddler program at Pacific Oaks. Also in the 70s, we met Kicker when he served on Pasadena's Board of City Directors (now the City Council). From then until mid-2002, when the Garden was just at its beginning, the McKenneys and the Brumders were friendly acquaintances.

Pictured: the garden's formal entrance during the early construction phase.
AG: What are some memories you have of the McKenneys and building the garden from the early days of Arlington?
GB: Starting in the summer of 2002 and continuing until the first planting took place and Arlington Garden was incorporated in 2005, I remember a series of small, informal meetings at Betty and Kicker's, mostly around their dining room table or on their deck overlooking the garden and attended by the McKenneys, me, Mayita Dinos (who designed the Garden), neighbors and friends of Kicker and Betty with non-profit experience, and one or two City staff. These meetings – say four to six a year – were well-run by Kicker in a relaxed, friendly but always focused and effective way.
Especially in the early years of the garden's planting, when plants were few and small, one could see the whole garden at a glance, we'd drive by often.  It wasn't at all unusual to see Betty or Kicker, or both of them, out in the garden. With lots of newly planted plants and no irrigation system, there was lots of watering to do.
AG: Were Betty and Charles experienced gardeners or did they have to acquire some skills on the job (so-to-speak)?
GB: As I recall, they knew almost nothing about gardens or gardening.  They had everything to learn – including the all-important fact that we're in a mediterranean climate, which is characterized by cool, damp winters and long, hot, dry summers and negligible or nonexistent springs and falls. In California, where water has been both cheap and plentiful, one need never know that we're in a mediterranean climate. Betty and Kicker soon learned that gardening in harmony with our mediterranean climate is water-conserving and environmentally responsible, and that's the direction they chose without hesitation and followed with determination.
They listened to knowledgeable friends and experts, they read a lot, and they worked hard and long in the garden – hard and long enough to be known as our Constant Gardeners. Before long, Betty knew every plant in the garden very well.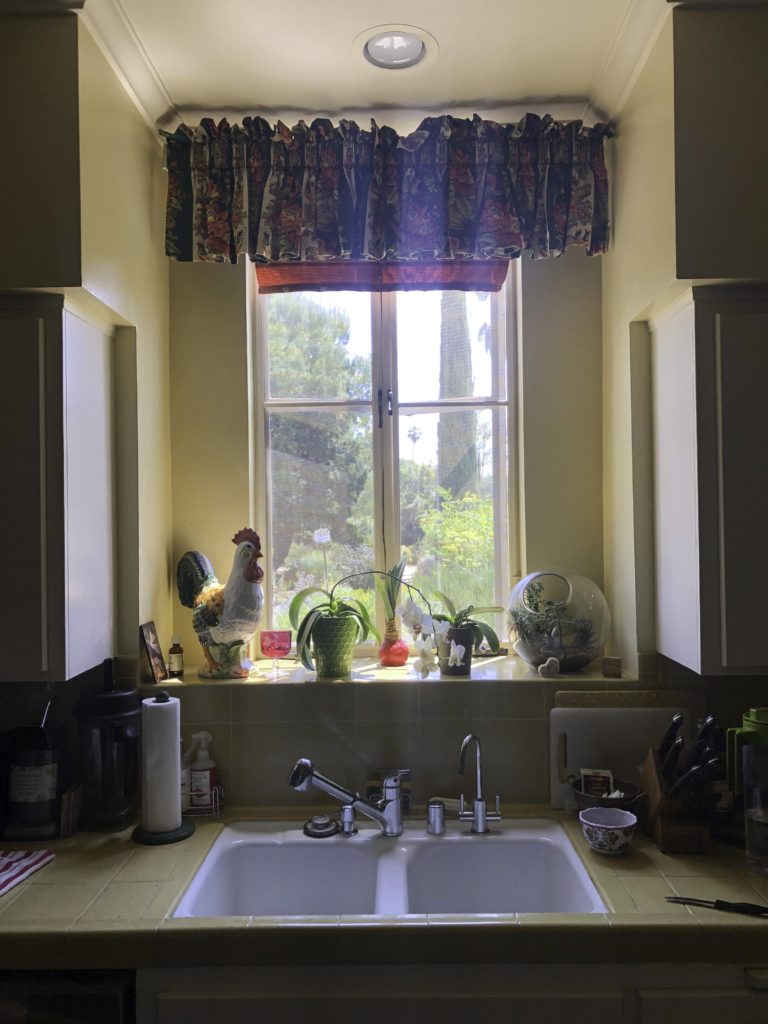 AG: What was Betty and Charles' original vision for the empty lot that became the garden? Who else helped create that vision?
GB: As soon as they moved to their condominium overlooking what is now the garden, Betty looked out her window (pictured above, left), saw an empty, weed-covered lot with only seven trees on it, and quickly said to Kicker 'we can do better than that!' When asked by Councilmember Steve Madison, the neighborhood opted, not for an active public park, but for a more passive public garden. The original vision was for just that – a garden, but a garden that, as Betty insisted, always looks good.
Soon after learning about our mediterranean climate, Betty discovered a book – Sun-Drenched Gardens: The Mediterranean Style – written by Jan Smithen, the long-time, beloved and expert teacher of gardening classes at the Arboretum. Jan's book featured wonderful gardens in Spain, Italy, the south of France and California (many of which Marilyn and I visited with Jan and others in 1998 and 1999). It was a great inspiration and guide. Betty also connected with Mayita Dinos, a long-time student of Jan's, and a noted garden designer, who prepared Arlington Garden's master plan.
AG: What did Betty and Charles do before becoming involved with Arlington? How do you think this might have helped them (or even hindered them) in developing and building the garden?
GB: They were smart, mature, thoughtful, flexible, realistic and aware, willing to work hard to achieve meaningful goals. They wanted to serve the community. They were willing to learn from those around them and, perhaps more important, from nature herself.
AG: What do you think people working on building their own versions of Arlington Garden can learn from Betty and Charles?
GB: Do as Betty and Kicker did – spend time in the garden, oversee it closely, visit other gardens, look at signage, read books, take classes, plant your garden with California natives and other mediterranean climate plants, just do it!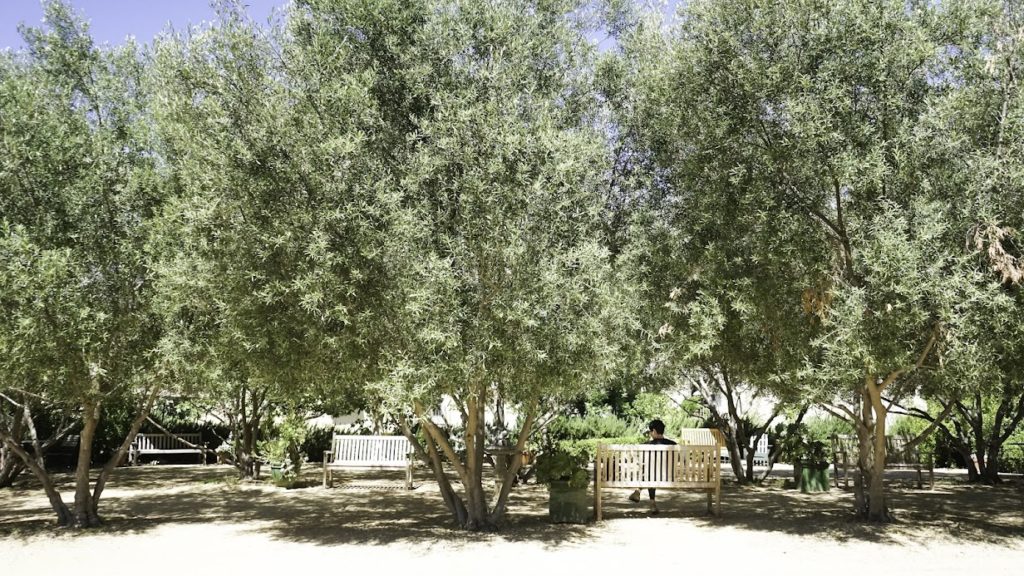 Pictured: olive allée area located in the formal upper half of Arlington Garden
AG: I have heard that Betty loved the Oxalis ("Sour Grass") blooms (Oxalis species in California are usually thought of as weeds) because her grandchildren loved them. What are your own favorite parts of plants in the garden?
GB: I like the whole garden, but I especially like the olive allée, and I have high hopes for the learning area around the new fountain. The garden is especially beautiful late in the afternoon as the sun is setting, shadows are long and it's still light enough to see color and lights are coming on.
Pictured: Betty McKenney in a field of California Poppies.