Inside Arlington are the folks who keep us growing. In this column, we interview capri kasai, Garden Educator, and Tahereh Sheerazie, Head Gardener, who reflect on gardening, Arlington Garden, and themselves. 
AG: What are your responsibilities at Arlington?
capri kasai: the webster's dictionary definition for gardener is as follows: a person who tends and cultivates a garden as a pastime or for a living. arlington's definition for gardener is as follows: tender to plants old and new, keeper of the orange grove, sidekick to (and often botherer of) tahereh, workshop facilitator, tour guide, exuberant educator of those big and small, trash picker upper, composter, incredibly delayed email replier, information desk, community member, and the list goes on, but i shall stop there 🙂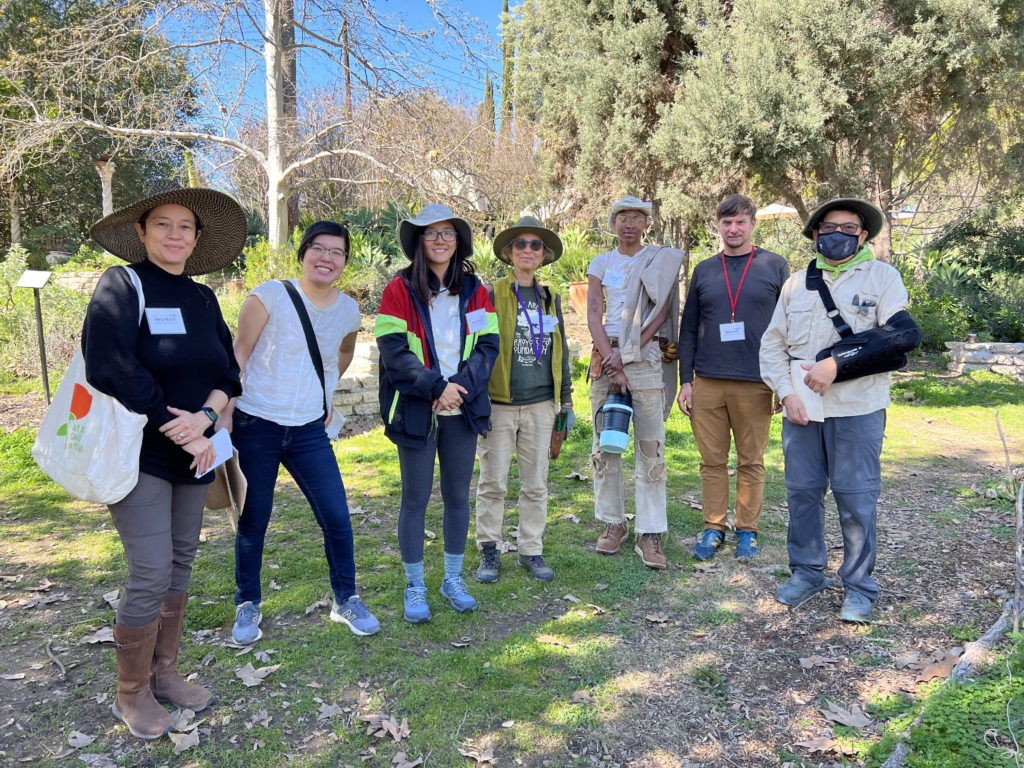 Pictured: staff and volunteers who support our PUSD garden tours (L to R) Michelle, Christine, Heather, Tahereh, capri, William, and Antonio. 
Tahereh Sheerazie: As "Lead Gardener," my job is to make sure all is up to snuff at the garden and sometimes cajole, request, or insist that everyone else also keep up with the snuffing aka weeding, mulching, pruning, feeding, keeping pathways accessible and trash invisible, plants hydrated and visitors welcome–barring those [visitors] who [knowingly] stomp in the beds during peak wildflower months to take selfies or prom pictures!
I also talk to everyone who visits and wants to chat – often sharing planting, growing, caring knowledge, and then selling marmalade and promoting our monthly workshops. I also manage Tuesday volunteering, which is where I began my direct engagement with the garden in 2021. Tuesdays are what I enjoy most, since we all know each other well and enjoy the weekly camaraderie. Needless to say, the volunteers' help moves the needle tremendously and allows for my job to be part-time.
Along with my fellow part-time co-workers and volunteers, I also conduct the weekly PUSD fifth grade field trips [see photo above]. It's a new thing at Arlington, and it's been great!  read more…