Arlington Garden broke ground 15 years ago on an empty lot with a smattering of beautiful old trees and little else besides trash. The first addition to the site was mulch to improve the soil. And, appropriately, the rest of the garden grew up from that.
But how did those beautiful old trees end up in this otherwise empty lot?
As with everything else in the area, the site of Arlington Garden is historical land of the Tongva/Gabrieleño peoples. Less than a century after the mission system officially ended, the location became the home of an extravagant fifty-room mansion called the "Durand House." The mansion was the home of the elder John Durand, a wealthy wholesaler originally from Chicago. It was designed to replicate a baronial French chateau, and it featured intricate wood carvings, a red sandstone exterior, and lush gardens with tropical palms and orange trees.
It was so extravagant that the Los Angeles Times heralded it as "the most peculiar and at the same time the most lavishly finished residence not only in Southern California but in the whole country." It was peculiar both for its sheer extravagance but also for such strange amenities as the switch placed next to Mrs. Durand's bed that, when flipped, turned on "every light in the house from cellar to roof" apparently as a form of burglar deterrence.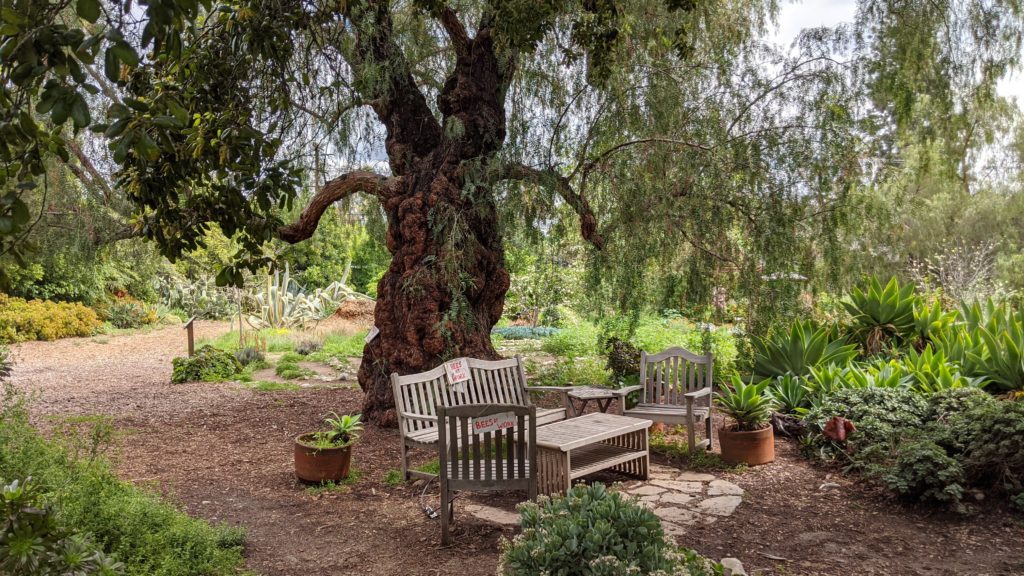 Those beautiful old trees on the empty lot? The large Schinus molle (above), also known as the Peruvian or Californian Peppertree, and the Jacaranda tree, are from the original Durand House gardens.
Over the last 15 years, they have become integrated into the garden, as native plants grow up alongside them. 
The Durand House was sold at auction and razed in the 1960s to make way for a subdivision. Caltrans later selected the property to be a staging ground for the construction of the 710 freeway expansion. Community opposition to the freeway halted construction, and the lot remained empty and unused until the creation of Arlington Garden in 2005. The garden has worked in the 15 years since to revitalize the lot and create another beautiful — although quite different — botanical landscape.