For the next month, Letters from the Garden will be focusing on art related to gardening and the natural world. The artist and naturalist Margaret Gallagher created Arlington Garden's 15th Anniversary poster (see detail from the poster above) which is available as a black-and-white digital coloring page and a special edition color print for the garden's crowdfunding campaign. She is currently an artist in residence at California Botanical Garden and is studying to become a botanist. All images provided courtesy of Margaret Gallagher.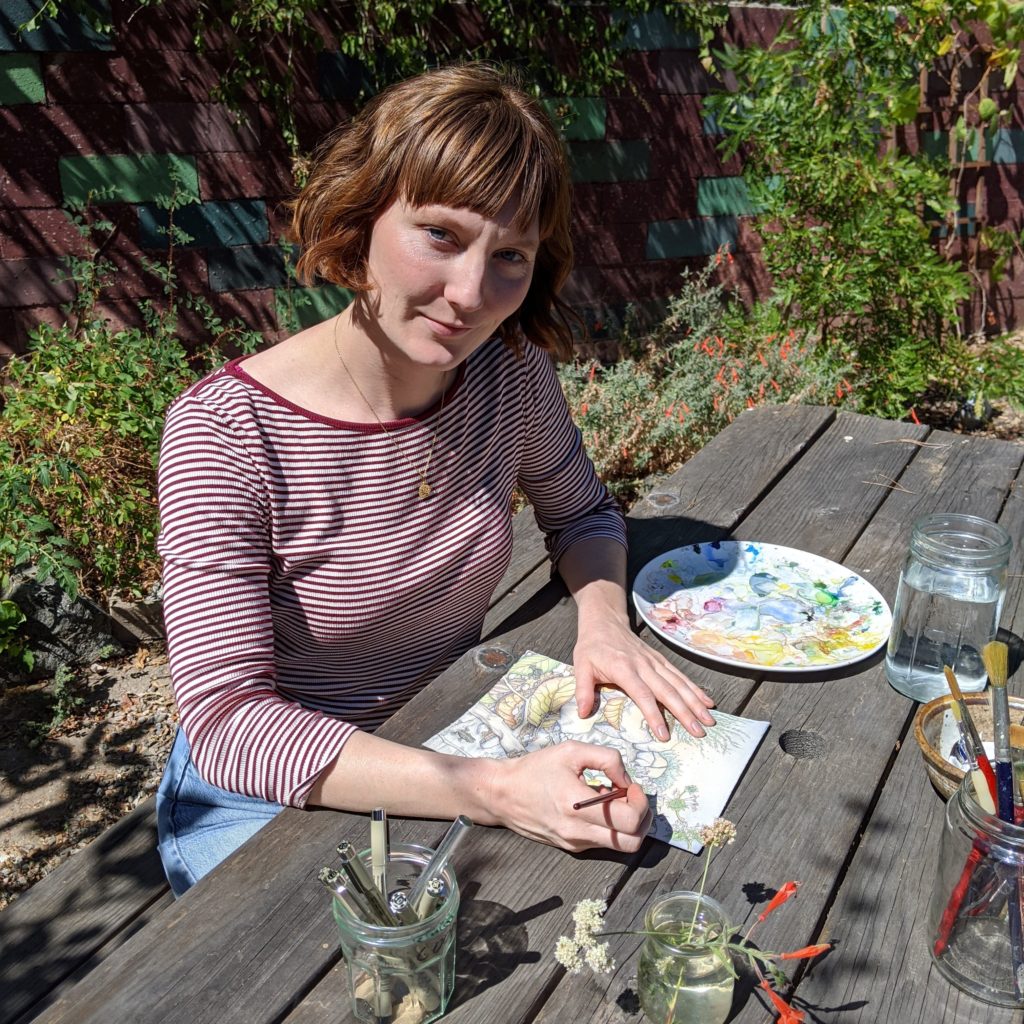 AG: In August, Arlington Garden is celebrating art in (and about) gardens and wildlife. Your work is predominantly about wildlife and the natural (viz. non-human) environment. Can you talk a little about how you came to focus on these topics in your art?
MG: I've always been in love with nature. I had a really special childhood – I grew up surrounded by nature on a farm in rural Oregon with a river running through it and a woodland nearby. My mother is an avid gardener and my dad is a birder, and they imparted their appreciation for the natural world to their kids. I could walk out the door by myself or with my siblings and spend all day in the gardens and fields looking at bugs. For a long time, that was enough for me – I just liked to be outdoors, to soak up the feeling of it. When I moved to Los Angeles for college (I studied art at Occidental) that changed. Los Angeles was such a different world, and I was completely fascinated by the complex intermixing of wildlife and people here.
You live in this vast urban landscape, yet coyotes stroll down the middle of the street at night, raucous flocks of parrots rule the neighborhood trees, and you round a corner onto an undeveloped hillside covered with native plants and butterflies. I didn't have a car for a long time – I got around by bike – so I saw a lot more of the city wildlife than you do when you drive. The mystery of the urban ecosystem just totally fired up my imagination, and I felt compelled to tell this story through my artwork.
AG: I have heard botanical artists say that drawing botanical specimens has made them better observers of the natural world. How has your art practice influenced your botanical studies? 
MG: I love this question, because following the pull of my artwork actually made me realize I wanted to become a botanist in order to study and protect California's ecosystems. As my art practice developed after college, I started spending more time around people who were knowledgeable about nature and passionate about conservation. Specifically, I started volunteering at the Audubon Center at Debs Park, learning how to band birds and helping with native plant habitat restoration. I had a lightbulb moment a few years ago when I accompanied an ornithologist, Tom Ryan, on bird surveys along the LA River, and I realized that people actually get to do that every day for their job! I started taking biology classes at Pasadena City College and volunteering with the California Native Plant Society and California Botanic Garden, while still working at my "day" job. […] I hope to spend my life working with California's plants.
To answer your question more directly, my skills as an artist are definitely an asset in studying botany. Drawing plants is an important component of botanical training – it helps you understand the anatomy of plants, which is quite complex, and has given me a good visual memory, which helps with field identification of plants. Before photography, being a decent artist was a crucial skill for any naturalist. Fortunately modern technology has allowed botanists to focus on other skills if they aren't artistically inclined!
AG: Inverting that question — how has studying botany influenced you as an artist? Or your conservation work? 
MG: The natural world is wonderfully complex. We, as humans, are part of this amazing interconnected web of being, with plants, animals, bugs, fungi, bacteria, and all the other forms of life. Those relationships are encoded into the world around us, and when you start to learn about them, a natural space suddenly goes from "bushes on a hillside" to an ecosystem teeming with life and information and significance. The more I learn, the more I want to portray that interconnectedness in my artwork – so I draw a native plant, along with the bees that pollinate it, the caterpillars that use it as a host, and the bird that eats the insects. So the viewer can see it as a pretty scene, but also has the opportunity to learn about an ecological relationship. At the heart of my art practice is the desire to spark love for and curiosity about the natural world in my viewers.
AG: What other factors besides biology (e.g. particular artists, forms, cultural touchstones) have influenced your art practice and informed your artistic decision-making process?
MG: So many! Some favorite inspirations are beautifully illustrated children's books like Animalia, painters like outsider artist Henry Darger, and classic wildlife artists like Audubon. Visual storytelling has always been really compelling to me. Japanese filmmaker Hayao Miyazaki has been a huge influence, not just his beautiful films, but also his graphic novels. One of his works I've revisited recently is the series Nausicaä of the Valley of the Wind, about a young woman with a special connection to nature, fighting to heal a damaged planet so that her people can survive and coexist with giant insects. My senior project in college was a 20-foot-long by 1-foot-high drawing called Beasts of Los Angeles, depicting an alternate-reality version of Los Angeles where enormous plants and animals coexist uneasily in the urban landscape.
Currently, one really important thing I have been considering is the lack of equity and accessibility of nature and environmental education for people of color. I've started to examine how my own art practice plays into this – asking myself, does the art I make create more or less equity? How can I create artwork that advances the cause of safe and equitable access to nature for all? I'm examining these questions about my creative practice and starting to explore alternative modes of creation. I just found out I was accepted for a 3-week summer residency at the California Botanic Garden, and I'm going to spend that time creating a free, bilingual nature guide which I hope will be fun and useful for people in our community who are starting to spend more time outside during the pandemic. My artistic ability is a gift, and I'm re-committing myself to figuring out how I can best use it to make my community a better place. 
AG: Can you briefly describe how you come to make an art piece? What is your typical process like and how do you decide what to include in the work? (For instance, how did you decide what to include in your 15th Anniversary poster for Arlington Garden?)
MG: Usually I learn about or see something in nature, and I just think it is SO COOL that I have to make a drawing about it so others can appreciate it too! Once I have the initial idea, I'll do a lot of research about the ecological relationships of my subject to decide what plants and animals to include. I use a ton of reference images – I take lots of photos when I am out, so I can often use my own photos for reference, but Google Images is my best friend. I used probably a couple hundred reference images for the Arlington Garden drawing, and spent hours sketching and erasing, trying to create the perfect layout that captured the wildlife and spirit of the Garden. Once the drawing is sketched out in pencil, I use fine-tipped pens to create a detailed line drawing, then erase the pencil. I sort of create my own coloring book. The final step is adding color with watercolor – first a light wash to get the color palette right, then a couple more layers to deepen and enrich the color. It's a maddening process, and I go through a lot of pens, but I can't work any other way. 
The full poster Margaret created for Arlington Garden is pictured below and is available as a thank you reward in the garden's current giving campaign. Her website features a survey of her recent work.