In part two of our two-part interview, Mayita Dinos (the designer of Arlington Garden) discusses what drew to her garden design, her journey from Puerto Rico to Europe and then back to the US, and shares some reading recommendations.
AG: Can you remember the moment you decided to become a garden designer?
MD: I remember that moment very, very well!!
It was 1971. I was floundering in college, not being able to decide on a major. For Mother's Day, my grandmother gave my mother three bare-root fruit trees for the backyard. My mother asked me not to get her anything, but instead, to plant the trees for her. I agreed to do that; I was skeptical about their survival, because they seemed quite dead to me — brown twigs with no leaves!
Time passed…I wasn't spending much time at home, so it came as quite a surprise when one day I walked into the backyard, and saw the trees were covered in green leaves and flowers. It seemed like a miracle. I just kept thinking, "I made that happen"!  It was as powerful a feeling as a spiritual epiphany. In fact, I like to think of it that way! It was very spiritual, and I wanted IN. So I decided to become a landscape architect, and applied to the University of Wisconsin, Madison.
AG: You were born in Puerto Rico. What was your personal journey like to Southern California?
MD: My parents met and fell in love in Ann Arbor, Michigan. Each came to study at the University from a different part of the world- my mother from Puerto Rico, my father, a Greek from Turkey. They married in Puerto Rico, but migrated to the Big Apple when I was three years old. Three years later, we returned to the island, and three years after that (!) my parents got divorced. My mother and I promptly left for Europe.
We lived in Spain and Greece and made frequent visits to Turkey to visit my Grandmother. This exposure to a range of cultures at an early age, helped me to form a worldview informed by cultural and geographical diversity. … Eventually we returned to New York and I quickly assimilated back into an American way of life, with the exception that we lived in a complex built for United Nations' employees and delegates.
There I continued to enjoy the understanding that I was part of a broader world community: the food my mother cooked was different from the typical American family, but so was everyone else's! Fast forward … I arrived in Los Angeles in 1987 with my husband and our toddler.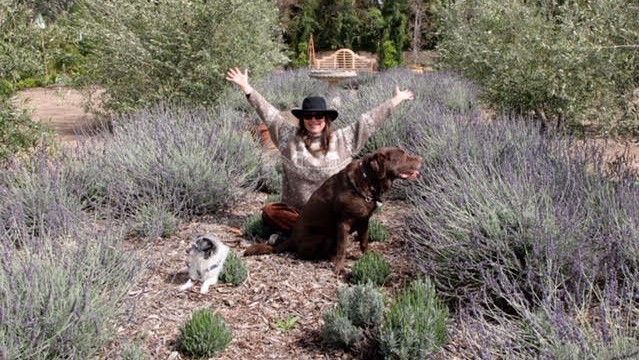 Mayita Dinos poses in an early iteration of the Olive Alee with her dogs.
AG: What do you focus on, when starting on a new garden?
MD: My initial site visits are about collecting information, impressions, and clues to what is working and where the challenges lie. I study the landscape to see how it works as a watershed. From conversations with the homeowners, I try to intuit their dreams and hopes for the future garden. When I begin the design process I approach as an explorer – with curiosity, intuition, inspiration and my cache of experience. I always want the end result to be something way beyond what the homeowner could ever have imagined.
AG: What do you think the relationship is between your gardens and the natural environment?
MD: Nature provides the basic models for how to make successful landscapes: Diversity vs. monoculture, ecosystems built on symbiotic relationships, etc… Gardens are a way of creating an enhanced natural environment. My gardens are created from the ground up — providing the essentials for soil, watershed, and ecosystems to flourish, and then filtered through my artistic and emotional sensibilities.

Mayita Dinos gives a toast to the garden's late founders Betty and Charles McKenney at a fountain designed by Cha-Rie Tang and dedicated to their memory and to the memory of Jo and Mary Bozzani (2019).
AG: What gardens, gardeners, artists, or musicians have inspired your design work?
MD: I love gardens that challenge the traditional definitions of what a garden should be. Bob Perry's Lummis Home, Ganna Walska's Lotus Land in Santa Barbara, and Isabelle Greene's magnificent gardens, are way up there in the inspiration category. Piet Oudolf's naturalistic gardens, especially the High Line in NYC, is a frontliner!
Jan Smithen's Fanatic Gardener class at the Arboretum opened my eyes to the seasons in a Southern California garden, and taught me how to design and garden in this amazing mediterranean climate.

Cover art from Mayita Dinos' new album "The Garden is My Stage."
AG: I know that you are a jazz vocalist and musician: is there a connection between your music and design practice?
MD: I just love that you asked me this! I've always loved singing, but it's only in the last five years that I've begun 'tuning' in to how and why garden design and music are so connected.
I recently started seeing connections between a well-designed garden and a jazz performance: Both start out with a big idea / concept- ie. a romantic encounter! In both gardens and jazz the concept is developed through the addition of form, color, rhythm, harmony, contrasts, repetition, and variation. Improvisation happens when Nature, as well as the instrumental soloists, insert the element of surprise, and a sense that anything can happen!
AG NOTE: for some reviews of Mayita's first album, see here and here. 
SPEED ROUND
AG: What is a key thought for home gardeners during this time of pandemic?
MD: Get intimate with your garden — spend this precious time eating, working, watching, and listening to your garden and its inhabitants.
AG: What book (or film, article, etc.) on gardening have you recently enjoyed?
MD: I love Judith Larner Lowry's books, The Landscaping Ideas of the Jays, and Gardening with a Wild Heart. If you can, watch 'A Little Chaos' on Netflix. Kate Winslet plays a landscape artist (designer) working on King Louis XIV's palace at Versailles.
AG: What book (or film, article, etc.) not on gardening have you recently enjoyed?
MD: I have to say, The Overstory, by Richard Powers!!! It's not specifically about gardens, but kinda related.